Ililani in Kakaako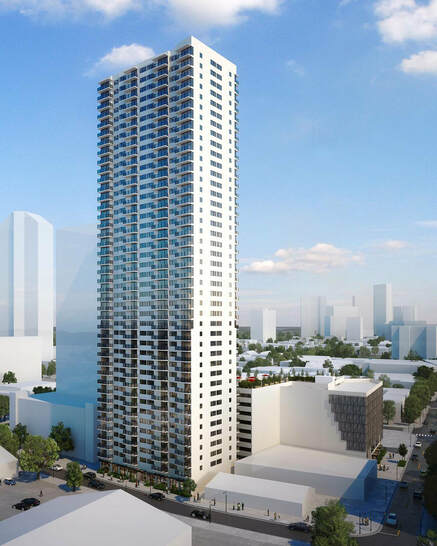 Ililani is the newest proposed high rise condominium and will be located on the corner of Keawe and Halekauwila and will be in the west portion of the Kakaako neighborhood. Ililani is a mixed-use project offering approximately 328 affordable and market rate housing units. The 42 story tower (approximately 400FT tall) will have a mix of retail space on the ground floor similar to other condo projects in the Kakaako neighborhood. 165 units will go to affordable housing and the remaining 163 units will be sold as market units.
Location
Address: 615 Keawe St, Honolulu, HI 96813, USA
The Ililani condominium project in Kakaako has been proposed and is set to be located in Kakaako. It will be near Keauhou Place and Keola Lai and close to Mother Waldron Playground. The property consists of two lots; 615 Keawe and 690 Halekauwila street. The project will be approximately an acre of land. It will be right in between of Downtown Honolulu and Ward Village near the the Ala Moana Shopping Center.
Floor Plans
The floor plan listed below is from an early iteration of the project and has likely changed slightly by now. This floor plan is on a low floor as it has a connection bridge to the parking structure. There are four one bedroom, one bath units and four two bedroom, two bath units per floor.
Affordable Housing Information
165 AFFORDABLE UNITS AVAILABLE
Ililani will give first-time homebuyers attainable housing options in an amazing Location in Metro Oahu in Kakaako. The building will have just about 50% dedicated towards Affordable Housing under the HHFDC (Hawaii Housing Finance and Development Corporation) program. Typically developers need to set aside at least 20% towards affordable housing, but Kam Development LLC has set aside 165 of of 328 units to go to first-time qualified homebuyers who are Hawaii residents. The remaining 163 units will be sold at Market Value and will open for owner occupants and investors. ​
Affordable Price Ranges – Coming Soon​
1 bedrooms – STARTING PRICES COMING SOON
2 bedrooms – STARTING PRICES COMING SOON
Maintenance Fee: TBD. Tentatively set to be in the upper $0.50 range and will cover sewer and the common area elements and amenities of the project

*Tentative Schedule: Affordable Applications Released Mid July*

APPROVED PROJECT LENDERS
Part of the application will be to get a project pre-qualification letter from one of the following lenders. It is highly advised to start as soon as possible, as they will get busy the longer you wait. Remember, you do not need to use the person who issued your project pre-qualification for the actual loan. You can use whoever you want even if the lender or bank isn't listed as a project lender. If you would like to start the process early, just let me know as I have a few contacts for approved project lenders. Stay tuned for the full list of lenders

INCOME LIMITS – 2019 HHFDC NUMBERS
Ililani will be a little different from the most recent Affordable Housing Project (The Central Ala Moana). This time around buyers will not have a minimum income limit, meaning you simply need to be under the 140% area median income (AMI) limit which is shown on the graph below. Per HHFDC the area median income will be classified by family size and you may use the table below see which bracket you fall under. The important thing to remember is that you need to be under the 140% AMI range based on your household size. This will also be different from The Central in the sense that Ililani will be using 2019 income limits instead of 2018 income limits.

ARE YOU READY TO BUY?
Ililani is going to be an amazing opportunity for those lucky enough to qualify and get picked during the lottery. It's a great project within a very vibrant and lively neighborhood which is great, especially if you're going to be living in the unit for the next 10 years. Feel free to contact me at any time with any questions that may come to mind and be sure to read up about the building using the button below.